To Learn More about Volunteering for HONK- click here
Bishop Brossart High School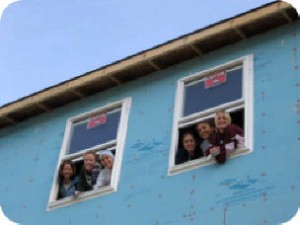 Bishop Brossart High School of Alexandria has something for its students who want to give back to the Northern Kentucky community.  Donna Heim and Suzette Glaab coordinate student volunteer opportunities with  HONK on a monthly basis.  The students help out with a variety of projects from painting, cleaning out crawl spaces, tearing down walls to general cleanup of current projects.

"Getting involved with HONK makes the students feel good about themselves and the community. It makes them feel more a part of the community," Brossart teacher, Suzette Glaab said. Suzette Glaab heads Brossarts' Beta Club, a national organization dedicated
to service, leadership and academic achievement.  One Saturday a month she schedules 8 to 10 student members of the Beta Club as HONK volunteers.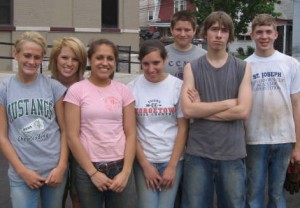 Donna Heim coordinates volunteer efforts at Brossart for the Freshman, Sophomore and Junior classes.   Once a year each class participates in some volunteering activity with HONK. "HONK is an important cause, because it serves families and children in need," Brossart teacher, Donna Heim said. "It teaches our kids to give back to the community they're a part of, and hopefully encourages them to do more."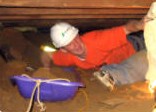 According to Glaab, "The kids love volunteering for HONK and say it's a blast, especially when it involves tearing something down.  The kids talk about their effort in cleaning out a clogged crawl space and painting a basement wall and putting their handprints on it. "
Bishop Brossart is a long-time HONK Community Partner and has provided volunteers for over 15 years. Thank you Bishop Brossart!!
---
Toyota Corporate Partner
Toyota Motor Engineering and Manufacturing North America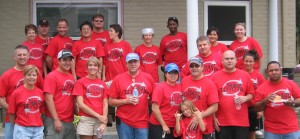 The founding director, Jack Goeke, initiated the partnership with Toyota when he sought a corporate grant for Housing Opportunities of Northern Kentucky in 1998. Since that time, Toyota has been a generous corporate grantor as well as a source of energetic and enthusiastic volunteers for HONK.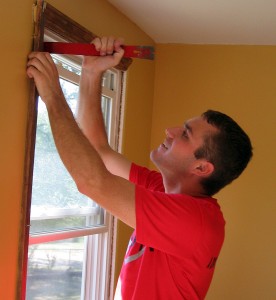 Thanks to Ms. Carri Chandler and Ms. Jana Martin-Kemp, crews from Toyota's Engineers in Training program, Co-op Students, Toyota's Human Resources Department, and others affiliated with Toyota have generously given their time, talent and energy to help with landscaping, painting, light demolition, insulation installation, and other supportive tasks to help rehab and build new homes with HONK.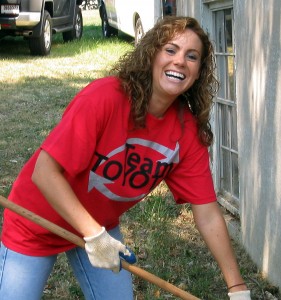 Toyota's commitment to HONK through it's generous financial support and volunteer labor has helped many families over the past 16+ years achieve their dream of homeownership. This commitment continues today. Under Mr. Jerome Jones' volunteer leadership, Toyota has helped in the rehab of several homes in Covington, and our first HONK home in Dayton, KY.
---
Hank Boehmer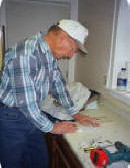 Church and school groups make up a large portion of the volunteers that work on homes for HONK, but Hank Boehmer is proof that individuals can make a difference.
Boehmer, now over 80 years old, was looking to remain active after retiring from his paint business in Covington. He tried volunteering for another organization first before starting his work with HONK.
"[Another organization] was just starting up in Covington and at the time was building one or two houses a year," Boehmer said. "Sometimes you would come in scheduled to do work and be told your services wouldn't be needed that day. They would back us off and we would be wondering what we would do with our time. That was kind of frustrating."
"Some retirees like myself heard about the HONK program," he added. "We volunteered and have been busy ever since."
In the 20+ years he's spent volunteering for HONK, Boehmer estimates he may have worked on close to 100 homes, mostly renovations in the Covington area. In addition to applying his skills from his days in the paint business, volunteering has enabled Boehmer to pick up a variety of new skills.
"I've become more versatile in terms of carpentry and drywall and some guys get into plumbing," he said. "Sometimes we teach others and sometimes they teach us."
Volunteering has also allowed Boehmer to meet new people and make friends. He and Bart Braden, a retired math professor from Northern Kentucky University, hit it off shortly after they each began volunteering.
"We partnered up and always try to schedule the same," Boehmer said.
He also gets to meet a variety of people during the lunches that are served at the warehouse facilities that allow workers and volunteers to come together.
Most of all, Boehmer says his volunteer work allows him to share the good fortune he's had in his life with others.
"For me, I've been very blessed in my life," he said. "I love to try to improve on things. You can take an older home and restore it and take a person who is struggling and offer a better living condition. It is a spiritual thing."