Visit this page often for updates on construction of The Legacy House, a new 4 bedroom single-family home being built at 219 Dell in Elsmere. The Legacy House will serve as a tribute to all that HONK's founder Fr. Jack Goeke has achieved, and all that HONK continues to achieve thanks to Father's vision and leadership.
Thank you to those that made our Groundbreaking event possible, including John Lomax and WKRC Local 12 News, former HONK Administrator Fr. Joe Gallenstein, Mayor Marty Lenhof and The City of Elsmere, Brian Miller and The Building Industry Association of Northern Kentucky, HONK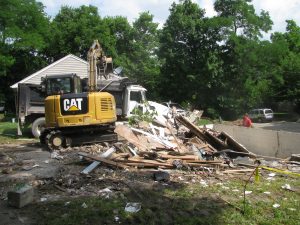 Board President Doug DeLay, and Ron King of King & Sons Construction.
Local 12 News coverage of the Groundbreaking can be found here.
Architectural plans for The Legacy House can be downloaded here. For our builders & suppliers – download the take off sheet here.
The City of Elsmere made the acquisition and demolition of the existing structure at 219 Dell possible. King & Sons Construction demolished the old structure to make way for new construction of the 1,695 ft2 home.
The Blitz Build construction event on August 25 & 26, 2018 was made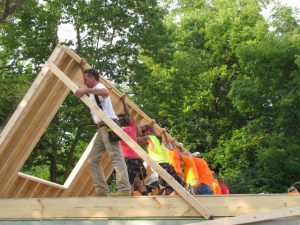 possible through our partnership with The Building Industry Association of Northern Kentucky (BIA). BIA members volunteered their time to help frame up the house in a weekend. A recent article in The River City News (click here for a link to the article) highlighted plans for the weekend.
Thanks to WKRC Local 12 and WCPO Channel 9 for great coverage on our Blitz Build event!! Click here to see Local 12 coverage. Click here for Channel 9 coverage.
12/12/18 Update: First floor insulation is installed.
In honor of Fr. Jack Goeke, it is our goal is to truly make this a home built by the community to benefit a family in need. A special thank you goes to our local contractors and suppliers that are stepping up to the plate to support construction of The Legacy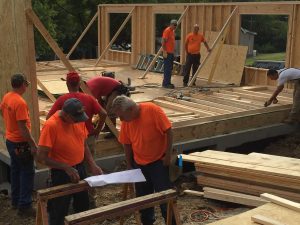 House. HONK has received generous donations and commitments from:
The City of Elsmere – property acquisition & demolition assistance
The Building Industry Association of Northern Kentucky – planning, coordination, volunteer recruitment, marketing, etc.
Jim Stegman/Stegman Construction – planning, coordination & carpentry labor
Doug DeLay/Alan Schmidt Construction – planning, coordination & carpentry labor
Hemsath Construction – carpentry labor
Grosser & Co. Remodeling – carpentry labor
King & Sons Construction – demo existing structure & foundation dig
Erpenbeck Engineers – stake house
David Rabe Contractors – footer & foundation
Ernst Concrete – concrete
Johnson Waterproofing – waterproof foundation
Tremco – weatherproof sheathing
MC Steel – rebar, beam, post & labor
Robertson Plumbing – basement ground work
Winnelson (Florence) – drain and vent piping
Deakins Construction – basement slab pour
Ideal Supply – concrete for sideways & driveway
Star Building Materials – brick & mortar
Panel Barn Lumber – trusses at cost of lumber
MC D Crane & Concrete – crane for truss installation
Willoughby Supply – roof shingles
Total Home Care – shingle installation
Marsh Building Products – gutter w/ leaf protection, downspout, valley, aluminum wrap, soffit & shutters
Carter Lumber – building materials
Kelly Brothers – building materials
Mueller Roofing Distributors – building materials
Schutte Stairs – stairs
Pella Windows of Montgomery – windows & installation
AE Door – garage doors
Liberty Window – doors
SECO Electric – electric labor
The John A. Becker Co. – electrical components
Richards Electric – wire & doorbell
Neiheisel Plumbing – sewer & abandonment
Helmer Plumbing – rough-in
ARC Electric Heating & Air – HVAC labor
Continental Building Products – drywall & finishing compound
Legacy Kitchens – cabinetry
Ohio Valley Solid Surface – countertop & lavatory sinks
Craftsmen By Design – cabinet installation
KBR – countertop & installation
Wiseway Supply Florence – lighting
Stegman Landscaping – landscaping labor
Blitz Build Volunteers (8/25 & 8/26):
Chris Hemsath, Hemsath Construction
Ian Weber, Hemsath Construction
Matthew Hobday, Hemsath Construction
Jim Stegman, Stegman Construction
Eric Smith, Stegman Construction
Doug & Jeanie DeLay, Alan Schmidt Construction
Marty Grosser, Grosser & Co. Remodeling
Doug Brownfield, Star Building Materials
Charley & Brandon Wayman, Building Industry Association of NKY
Brian Miller, Building Industry Association of NKY
Jessica Rose, Building Industry Association of NKY
Diana DeVore, Guardian Savings Bank
Ken Greis
Jamie Buten
Jerry Hoffman
Daryl Knauer
Jay Thamann
Derrick Theetge
Kathy Bell
Jim Broomall
Steve Lutkenhoff
Bob Lutkenhoff
Nick Lutkenhoff
Jeff Scott
Adam Keener
Kyndahl Lee, NKU
Naomi Hurdle, NKU
Sarah Zapf, NKU
Katelynn Edwards, NKU
D. Taspa, NKU
David Hastings
Blitz Build Food Support (8/25 & 8/26):
Charley & Brandon Wayman – Saturday breakfast
Elsmere Baptist Church – Saturday lunch & dinner!
Diana DeVore – Sunday breakfast
Donatos Pizza – Sunday lunch
Additional financial support has recently come from:
Dick Lambers Memorial
Citizens Federal Savings & Loan Association
Dan M. Manter Living Trust
Gloria DeWald
Mr. & Mrs. Ken Roenker
Glenn & Margaret Wagenlander
Mrs. Joanne Schuler
Steve & Marlene Lutkenhoff
John Curtin (committed)
Tom Spille (committed)
We have a lot of work yet to do and our need is still great! To finish construction of this home, we are going to need considerable help in the months ahead!!

Our short term immediate needs as of 12/12/18 include:
Insulation and installation
Labor to hang and finish drywall
Brick layer(s)
11- interior doors
Contractor to install interior doors

Laborers are available from HONK to assist contractors. Other needs are listed in the takeoff that can be downloaded here.
Please share a link to this web page (www.honkhomes.org/legacyhouse) to spread the word on this most important project to bring homeownership within reach to a family in need!